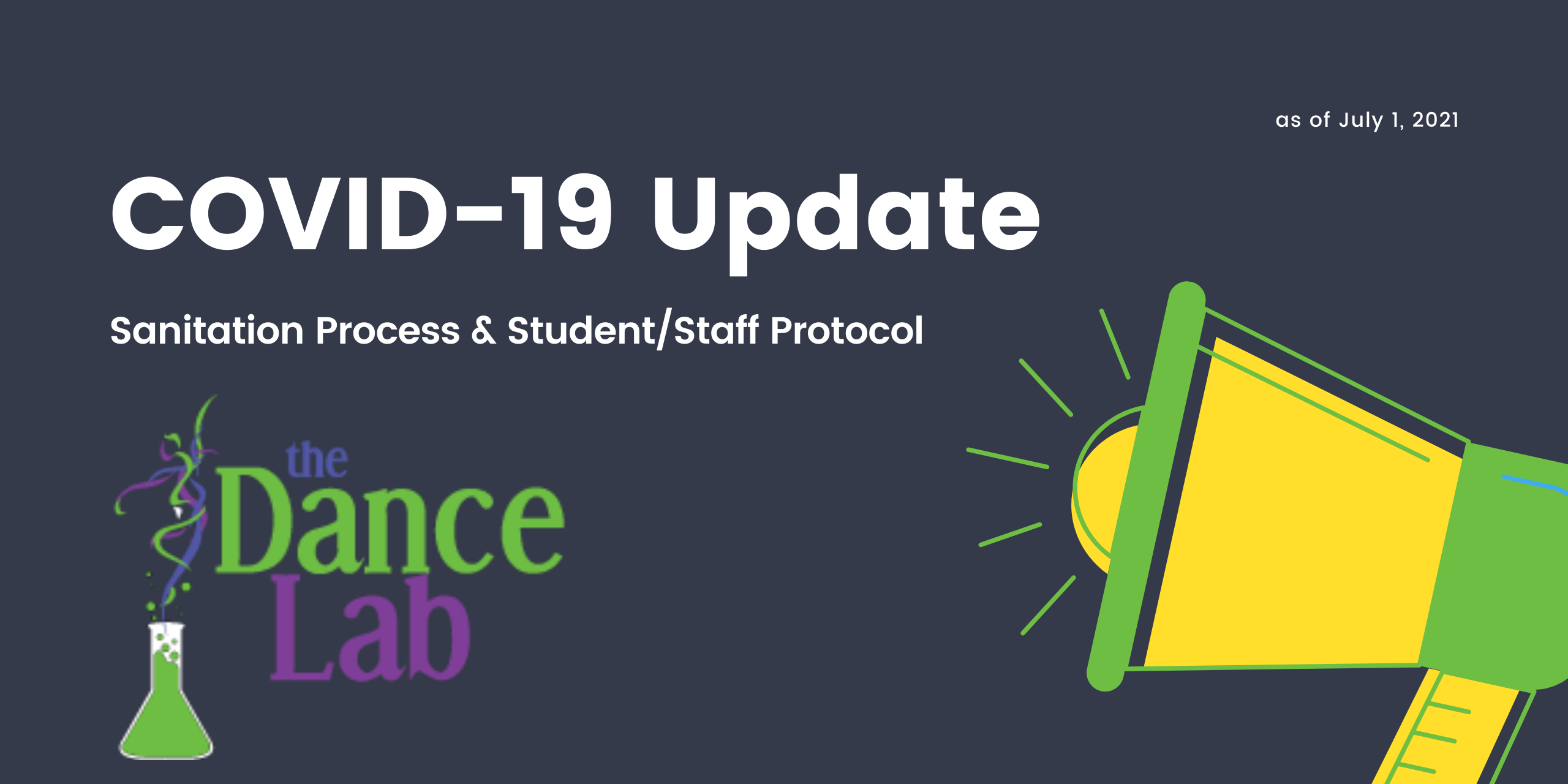 For the safety of our dancers and staff, we are incorporating extensive sanitation practices at The Dance Lab.  The following protocol is in addition to our existing standard cleaning procedures.  Additionally, we will be placing signage through the studio to remind everyone of best hygiene practices and social distancing guidelines.
Cleaning/Sanitizing of Studio PRIOR to and in BETWEEN Class:
While there have been no known or reported cases of COVID-19 at The Dance Lab facilities throughout this pandemic, we have done the following:
Purchased and put in place 3 air purifiers – one in each studio as well as one in the lobby.

We also have MERV 13 air filters in place.

We will be spot cleaning as needed, which includes, but is not limited to the entrances/doorways, any handheld props (which will be much more limited than in previous years) and restrooms.
These procedures and additions will address both airborne pathogens as well as those dwelling on surfaces.
Hand Sanitizer Upon Entry
Upon entry to the lobby AND the studios, we will provide and require hand sanitizer on each dancer's hands.  Dancers are allowed to use their own hand sanitizer if they prefer.
Masks
Masks will be REQUIRED to enter the studio and will need to remain on during the entire time.  Teachers and any TDL staff will also be wearing masks the entire time.
No food or drink will be permitted in The Dance Lab aside from a water bottle
Our water fountain will NOT be available for use until further notice.  Dancers should bring their own LABELED water bottle from home. NO food will be permitted.
Limited Items in The Studio
We are asking all dancers to limit the items they bring with them into the studio.  Appropriate dance shoes and a water bottle are really the only necessities while inside the studio.  Dancers should come to the studio already dressed to dance.
Before You Come to the Studio
You must take your child's temperature before coming to the studio. If their temperature is 100.3 or higher, your child will not be able to participate and should be monitored for additional COVID symptoms (see below).

We will also have a touchless thermometer to monitor temperatures if necessary.

By coming to the studio, you are confirming, if there is a travel advisory in place, that you have not traveled to any of the states or territories that require quarantine within the last two weeks. (Those states can be found at this link https://coronavirus.health.ny.gov/covid-19-travel-advisory?gclid=EAIaIQobChMI-Nj5hJ-j6wIVCLLICh2xsQ1_EAAYASAAEgLm7_D_BwE)

You are also confirming you/your dancer(s) has/have not been in contact with anyone who has COVID or is suspected of possibly having COVID within the last two weeks and they are not showing any signs or symptoms of COVID including, but not limited to, sore throat, cough, chills, body aches, shortness of breath, loss of smell or taste.
Student Drop Off/Waiting Room Procedures
When you arrive at the studio you may wait outside or in your car.
When it is time for the dancer's class, the teacher/assistant will come to notify those students and have them enter the building at that time. I realize the following procedures are not going to be ideal for some students and I feel terrible that this is what we have to do, but the health and safety of the dancers and the TDL staff are my main priority at this point in time, so I appreciate your understanding as we all adjust.

For dancers ages 3 and 4, ONE parent OR guardian will be allowed to come in while the dancer gets used to the class and space. Masks will be required by both the parent/guardian and the dancer.  If your child is okay on their own, we would prefer you to drop them off and pick them up at the end of class.  The teachers and assistants can assist with any shoe changes.
Parents of Dancers ages 5 and up should plan on dropping off their student(s) at the beginning of class and picking them up at the end of class without entering the building.
In the Studio
Once inside of the studio students will have at least 6 feet of distance between them and another dancer.

All of our class sizes have been decreased to allow for the 6 feet of space.
Please note, these procedures are ever-evolving and may change at any time, without notice.  Please check the website for updates on a continual basis. Thank you!